A Game of Thrones; George RR Martin
— Love @ 20:10
Comments (1)
Filed under:
C
,
English
,
Fantasy
,
First in a Series
,
Here Be Dragons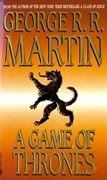 A Game of Thrones
by George RR Martin


For the Here Be Dragons and First in a Series reading challenges.
English
837 pages
Bantam Books
ISBN: 987-0-553-57340-4
First line: "We should start back," Gared urged them as the woods began to grow dark around them.
Back cover blurb:
In a land where summer can last decades and winters a lifetime, trouble is brewing. The cold is returning, and in the frozen wastes to the north of Winterfell, sinister and supernatural forces are massing beyond the kingdom's protective Wall. At the center of the conflict lie the Starks of Winterfell, a family born as harsh and unyielding as the land they were born to. Sweeping from a land of brutal cold to a distant summertime kingdom of epicurean plenty, here is a tale of lords and ladies, soldiers and sorcerers, assassins and bastards, who come together in a time of grim omens. Amid plots and counterplots, tragedy and betrayal, victory and terror, the fate of the Starks, their allies, and their enemies hangs periously in the balance, as each endeavor to win that deadliest of conflicts: the game of thrones.
Thoughts: I kept pushing back reading this forever, as it's such a big book. I didn't use to mind big books—quite the opposite, in fact—but then I got a job and I don't have as much time for reading as I used to, so I've rarely got time to finish big books in one sitting, which is what I prefer to do (example: I read A Suitable Boy by Vikram Seth, which was 1239 pages in the translation I read, in less than two days).
Anyway, I went to London and I needed to have some reading material with me, or I'd go spare, but I also didn't want to take too much, on account of weight issues and such, so this book got to come along with me. I didn't finish it there, but I did get about half-way through. And then I finished it today.
For the first couple of hundred pages or so, it was pretty much just confusing. It's written in third person. However it's not one person we follow, but at least eight (I probably forgot someone now. It wouldn't surprise me) and they never have two chapters in a row, which means that it took a while to get to know them.
Once I did, though, things did pick up a little and the story ends up being quite good. I even had a couple of favourite characters (Dany, Eddard, Jon and Tyrion). However, I don't feel that it was good enough that I'll likely want to read the rest in the series. Probably not, anyway. I am itching a little to know what happens next, so maybe one day I will end up reading the other books, but right now I doubt it.
It's a C grade, which means it was a decent read, but not awe-inspiring.