Annika Larsdotter: barnamörderska; Inger Lövkrona
— Love @ 13:40
Comments (0)
Filed under:
Back to History
,
C
,
History
,
Swedish
,
To Be Read
,
True crime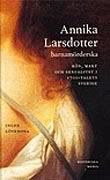 Annika Larsdotter: barnamörderska
by Inger Lövkrona


For the Back to History and To Be Read reading challenges.
Swedish
255 pages
Historiska Media
ISBN: 91-88930-64-5
First line: Boston — Min vän slänger tidningsartikeln pÃ¥ skrivbordet med en kort kommentar: "Ja, här har du en till."
Back cover blurb:
Annika Larsdotter avrättades 1765, 18 år gammal. Hon hade då erkänt dråp på sitt nyfödda barn genom kvävning. Barnets far var Annikas svåger som hade tvingat henne till sexuellt umgänge, men sedan förnekade faderskapet.

Annika Larsdotter var en av tusentals unga svenska kvinnor som under 1600-, 1700- och 1800-talen anklagades för barnamord eller fosterfördrivning. Brottet ansÃ¥gs vara samtidens största samhällsfara. Barnamörderskor dömdes strängt och utan förbarmande — kvinnan beskrevs ofta som en osedlig, ondskefull och grym moder, i nära släktskap med häxor.

Denna bok handlar om Annika men också om några av hennes olyckssystrar. Varför valde dessa kvinnor att mörda sitt barn? Varför valde de inte istället att, i likhet med andra ogifta mödrar, ta på sig rollen som ogift mor?

Etnologen Inger Lövkrona söker svaren genom att studera rättsfall från perioden 1729-1776. De bevarade domstolsprotokollen ger unika möjligheter att komma nära barnamörderskornas handlingar, tänkbara överväganden och känslor.
Very short synopsis in English: This is the study of eight cases from 18th century Sweden where young, unwed women murdered, or were accused of having murdered, their newborn children. Why did they do it?
Thoughts: This was a very interesting read, but what struck me as most shocking was an excerpt at the very beginning of the book, about "prom moms". It's easy to read about a case from the 18th century, where shame and desperation led someone to commit almost unspeakable offenses, and think that at least we've moved on from that now. Not everywhere we haven't. Young women still sometimes don't see any other way out. It's absolutely horrifying and sad — it was then and it is now.
The book was sometimes a bit tricky to follow, but that always happens to me when I haven't read academic texts in a while. All things considered, a C grade is in order.