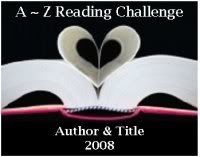 The A-Z Reading Challenge is hosted by Joy (who also hosts the First in a Series and Young Adult challenges (see links list)).
Rules:
– align the author's last name or the title of a book (excluding "the", "a", etc.) with its corresponding letter in the alphabet

– enter a different book for each author and title (total of 52 books)

– complete the alphabet lists anyway that suits your fancy
(i.e.: complete each list separately in alphabetical order, read both "A" entries, then "B" entries, fit whatever you're reading into any list, etc.)

– complete the challenge in the year 2008
For this challenge, I won't be doing a list of books to read, but instead add titles/authors onto the list as I read them. I think it'll be easier that way, plus fifty-two books for one challenge seems like a little too many to plan so rigorously. I don't like to have too much set in stone. I like a bit of freedom in my reading choices (I've seen some people plan their entire year's reading beforehand, with a schedule as to when exactly to read a particular book. I could never do that).
A
B
C
D
E
F
G
H
I
J
K
L
M
N
title: New Moon — finished on 31st January, 2008
author: Novik, Naomi — finished on 3rd January, 2008
O
P
Q
R
S
T
title: Twilight — finished on 16th January, 2008
author: Thomas, Will — finished on 7th January, 2008
U

V

W

X

Y

Z