By a Lady; Amanda Elyot
— Love @ 23:40
Comments (1)
Filed under:
Chick lit
,
English
,
F
,
Historical
,
Romance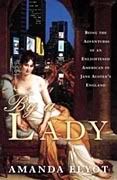 By a Lady
by Amanda Elyot


English
372 pages
Three Rivers Press
ISBN: 1-4000-9799-1
First line: "It's beautiful," C.J. murmured, examining the curiously pockmarked amber cross.
Back cover blurb:
New York actress C.J. Welles, a die-hard Jane Austen fan, is on the verge of landing her dream role: portraying her idol in a Broadway play. But during her final audition, she is mysteriously transported back to Bath, England, in the year 1801. And Georgian England, with its rigid and unforgiving social structure and limited hygiene facilities, is not quite the picturesque costume drama C.J. had always imagined.
Just as she wishes she could click her heels together and return to Manhattan, C.J. meets the delightfully eccentric Lady Dalrymple, a widowed countess who takes C.J. into her home, introducing her as a poor relation to Georgian society—including the dashing Earl of Darlington and his cousin, Jane Austen!
When a crisis develops, C.J.—in a race against time—becomes torn between two centuries. An attempt to return to her own era might mean forfeiting her blossoming romance with the irresistible Darlington and her growing friendship with Jane Austen, but it's a risk she must take. And in the midst of this remarkable series of events, C.J. discovers something even more startling—a secret from her own past that may explain how she wound up in Bath in the first place.
Thoughts: I read about this book on a blog a while back (I forget which one, I'm sorry to say) and since I've been on a bit of an Austen kick lately, I thought it sounded interesting and figured I would give it a shot. The review I read warned that there was hot, steamy sex to be found in the novel, and while that's not normally my cup of tea (especially in a Regency era novel), I figured I would be okay with it since I had advance warning. Yeah, not so much.
I absolutely and utterly hated this book. I think it might actually be the worst book I've ever read. Usually when I find fault with a book, there's something else about it that makes it not quite so horrid. Say, if the language is bad, the characters have redeeming qualities, and so forth. But this sorry excuse for a novel was quite honestly bad in every imaginable way.
The main character, C.J., is such a Mary Sue it's not even funny. She's an American actress who is absolutely obsessed with Jane Austen and is about to get her big break landing a role as Jane Austen in a two-character Broadway play. Guess who the author is? An American actress who is seriously into Jane Austen and played that very person in a two-character play (if it was on Broadway I don't particularly know, but it doesn't seem too unlikely). And of course, C.J. is perfect in every single way. Ergo1, Mary Sue.
The story is nearly always told from C.J.'s point-of-view, except occasionally when it suddenly changes to be the point-of-view of whatever other person happens to be nearby. These changes feel very crudely done and seemed to serve no real purpose, except to confuse and annoy.
As if that wasn't enough, the language is absolutely horrible. The author seems bent on sticking as many big and fancy words in there as she possibly can, with no regard to if they fit the feel of the rest of it, or not. And don't get me started on the sex scenes! My god, they made my eyes bleed. Let's just say there was a little too much ear-licking for my tastes, and just in general terribly unappealing. Nothing even remotely sexy about the writing there. I think she was going for romantic/hot and steamy, but completely and utterly failed.
Another bone of contention I have with this book is how the women of 1801 are portrayed as compared to C.J., who is the representative of the 21st century woman. The former, with a few exceptions, are made out to be exceedingly unintelligent, whilst C.J. is so clever and so well-read, which we are made to understand is how all 21st century women are. I think there might be something in that, don't get me wrong (we do have access to a lot more information, these days), but I don't exactly think C.J. is the average modern day woman either. She is well-acquainted with early 19th century law, knows more about heart conditions than the Georgian physician (true that medicine has made advances since 1801, but would a layperson really know more than a doctor, even if he was a backwards one? I'm not so sure), and uses Latin phrases in everyday conversation2 quite a lot. I just don't buy that this is the average woman of our time. But then, as mentioned previously, C.J. is a Mary Sue and thus cannot be held to the same standards as the rest of us.
One last thing I have a problem with is the character Lady Dalrymple. She's eccentric, but a nice person and rather well-liked, even, as far as I can tell, by Jane Austen. Now, if you are familiar with your Austen novels, you will know that in Persuasion, there is a character with that very same name. This person, however, is a rather proud and disagreeable lady. One would assume that Elyot's chosen the names for her characters to make it out that Jane Austen took the names of her characters from people she knew (there are other examples of this as well). If that is indeed the case, I feel sorry for Lady Dalrymple to be thus abused by someone who apparently quite liked her.
The rating, if anyone's having any sort of doubt at this point, is an F. I would go lower if I could, but I can't, and so an F it is. The only reason I read 'til the end (I'll have to admit to skipping some passages that were too much to bear), was because I'd spent money on the book and didn't want that to have been a complete waste.
1. Oh, I'll be made to eat that ergo before the end of this review, you mark my word.
2. This is when I eat my ergo.