A Christmas Carol; Charles Dickens
— Love @ 12:58
Comments (1)
Filed under:
C
,
Classics
,
Decades '08
,
English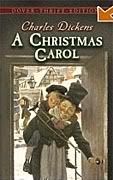 A Christmas Carol
by Charles Dickens


For the Decades '08 reading challenge (first published 1843) and part of the BBC Big Read.
English
77 pages
Dover Publications
ISBN: 978-0-486-26865-1
First line: Marley was dead: to begin with.
Back cover blurb:
In October 1843, Charles Dickens—heavily in debt and obligated to his publisher—began work on a book to help supplement his family's meager income. That volume, A Christmas Carol, has long since become one of the most beloved stories in the English language. As much a part of the holiday season as holly, mistletoe and evergreen wreaths, this perennial favorite continues to delight new readers and rekindle thoughts of charity and goodwill.

With its characters exhibiting many qualities—as well as failures—often ascribed to Dickens himself, the imaginative and entertaining tale relates Ebenezer Scrooge's eerie encounters with a series of spectral visitors. Journeying with them through Christmases past, present, and future, he is ultimately transformed from an arrogant, obstinate and insensitive miser to a generous, warmhearted, and caring human being. Written by one of England's greatest and most popular novelists, A Christmas Carol has come to epitomize the true meaning of Christmas.
Thoughts: I've been meaning to read this for years and years and years, but I never did get around to it until now.
I knew the basics of the story already, of course, having seen an animated adaption or two in my day, but I was pleasantly surprised at how good I found it. Somehow, I don't know why, I was expecting to almost struggle through it and want to give up because of boredom, or what have you. There really was no reason for me to be expecting that, as I've liked all the Dickens I have read so far, plus there has to be a reason for its popularity.
At any rate, I get to mark another book on the BBC Big Read as successfully read, and to dole out a C rating.