Twilight; Stephenie Meyer
— Love @ 16:14
Comments (28)
Filed under:
A-Z Reading Challenge
,
B
,
English
,
Fantasy
,
First in a Series
,
Romance
,
YA Challenge 2008
,
Young Adult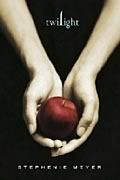 Twilight
by Stephenie Meyer


For the Young Adult, First in a Series and A-Z reading challenges.
English
434 pages
Atom Books
ISBN: 978-1-904233-65-7
First line: I'd never given much thought to how I would die—though I'd had reason enough in the last few months—but even if I had, I would not have imagined it like this.
Back cover blurb:
When Isabella Swan moves to the gloomy town of Forks and meets the mysterious, alluring Edward Cullen, her life takes a thrilling and terrifying turn. With his porcelain skin, golden eyes, mesmerizing voice, and supernatural gifts, Edward is both irresistible and impenetrable. Up until now, he has managed to keep his true identity hidden, but Bella is determined to uncover his dark secret.

What Bella does not realize is that the closer she gets to him, the more she is putting herself and those she around her at risk. And it might be too late to turn back…
Thoughts: I heard such different accounts of this book as puzzled me exceedingly*. Before I ordered it, I found only positive views in different book blogs. Of course, the second I pressed the confirm button on the book order, the more negative reviews started popping up.

After reading the book myself, I find myself in the camp in the middle. I wasn't as completely blown away by Edward as others have been, but neither was I completely and utterly annoyed with Bella. Edward is okay, but he's not one of those fictional characters I see myself falling in love with. As for Bella, I was a little peeved at her over a couple of things (mostly how she treats her father, because I refuse to believe he is as useless at cooking as she makes him out to be. He has, as he himself says, survived on his own for seventeen years, after all).

On the whole, I thought the book was good enough and I definitely want to read the sequels (already ordered them, in fact), but I find myself a bit of a sceptic when it comes to the great Bella/Edward romance. It's a little too intense for my liking, to be honest. Either way, I do look forward to see where the story is going and this, the first installment, receives a well-deserved B grade.

*See what I did there?