An Assembly Such as This; Pamela Aidan
— Love @ 22:49
Comments (5)
Filed under:
A-Z Reading Challenge
,
B
,
Back to History
,
English
,
First in a Series
,
Historical
,
Romance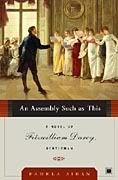 An Assembly Such as This
by Pamela Aidan


For the First in a Series, Back to History and A-Z reading challenges.
English
256 pages
Touchstone
ISBN: 978-0-7432-9134-7
First line: Fitzwilliam George Alexander Darcy rose from his seat in the Bingley carriage and reluctantly descended to earth before the assembly hall above the only inn to which the small market town of Meryton could lay claim.
Back cover blurb:
"She is tolerable; but not handsome enough to tempt me."

So begins the timeless romance of Fitzwilliam Darcy and Elizabeth Bennet in Pride and Prejudice, Jane Austen's classic novel which is beloved by millions, but little is revealed in the book about the mysterious and handsome hero, Mr. Darcy. And so the question has long remained: Who is Fitzwilliam Darcy?
In An Assembly Such as This, Pamela Aidan finally answers that long-standing question. In this first book of her Fitzwilliam Darcy, Gentleman trilogy, she reintroduces us to Darcy during his visit to Hertfordshire with his friend Charles Bingley and reveals Darcy's hidden perspective on the events of Pride and Prejudice. As Darcy spends more time at Netherfield supervising Bingley and fending off Miss Bingley's persistent advances, his unwilling attraction to Elizabeth grows—as does his concern about her relationship with his nemesis, George Wickham.
Thoughts: Unlike Darcy's Story, which I read in December, this book really captured me from the first chapter. Here is Mr. Darcy as I have always pictured him. The other characters, some of which are original characters, are well-written as well and especially Fletcher, Darcy's valet, won my heartfelt approval.

On the whole, it felt as though it was written very much in the spirit of Austen herself, and there was much giggling and squeeing from me as I read it.

The only negative thing about it is that it's the first in a series and I hadn't realised that the whole series would make up the events in Pride and Prejudice. In fact, I thought the following two books would relate the events after Darcy's and Lizzy's wedding. As I found it was not the case, I shall simply have to hunt down the following two volumes at my earliest convenience, as I will not rest until I know what happens next (shut up! Yes, I know I know what happens next, but I don't have Aidan's Darcy's take on it, so there!).

For now, it's a B grade. If the rest of the series proves to be as good as this, I might bump it up to an A in the end.