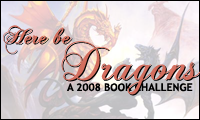 What? Read 3-5 books featuring dragons.
When? 1st of January to 30th of June, 2008
Why? I realised that I had a few dragon-related books on my to read-list, decided to challenge myself to read them and figured maybe others would like to join in.
My list:
Challenge completed on 30th June, 2008!