A Countess Below Stairs; Eva Ibbotson
— Love @ 18:23
Comments (5)
Filed under:
A
,
A-Z Reading Challenge
,
Back to History
,
English
,
Historical
,
Romance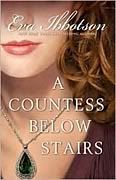 A Countess Below Stairs
by Eva Ibbotson


For the Back to History and A-Z reading challenges.
English
383 pages
Speak
ISBN: 978-0-14-240865-0
First line: In the fabled, glittering world that was St. Petersburg before the First World War there lived, in an ice-blue palace overlooking the river Neva, a family on whom the gods seemed to have lavished their gifts with an almost comical abundance.
Back cover blurb:
After the Russian Revolution turns her world topsy-turvy, Anna, a young Russian countess, has no choice but to flee to England. Penniless, Anna hides her aristocratic background and takes a job as a servant in the household of the esteemed Westerholme family, armed only with an outdated housekeeping manual and sheer determination.
Desperate to keep her past a secret, Anna is nearly over-whelmed by her new duties—not to mention her instant attraction to Rupert, the handsome Earl of Westerholme. To make matters worse, Rupert appears to be falling for her as well. As their attraction grows stronger, Anna finds it more and more difficult to keep her most dearly held secrets from unraveling. And then there's the small matter of Rupert's beautiful and nasty fiancée…
Thoughts: This is, without a doubt, one of my favourite books. I think it might even trump Pride and Prejudice as the one. I first read it in ninth grade when I found it, quite by accident, in the library at school. I was familiar with Ibbotson's other body of work, those fantastical books of hers aimed at children, but I didn't know she also wrote for another audience. At first, I admit I was a little doubtful—it was a romance, after all, and the translation was rather sloppily done (the original title was written as "A Countness Below Stairs", that's how sloppy it was), and the cover didn't look like much. But oh god, I was blown away! I overlooked the typos and the printing errors, and just devoured the book. When I put it down, my eyes were wet from tears (I can be an übersap, sometimes) and it was late at night. The next day, when I came home from school, I picked it back up and read it all over again.
Since then, I've read it over and over again, always still in the same sloppy translation, but now I've finally found it in the original and thus it was almost like discovering it all over again. I can now tell that while the publishing work of the translation left quite a bit to be desired, the actual translation wasn't half-bad. I know it so well now that reading the original, I was a little astounded that the errors I had grown so used to weren't there. But oh, how I still love it! And still, this the sixth (or seventh? I've lost count) time I read it, I was still moved to tears in the exact same places, even though I know how it all ends.
As you know, I don't usually post quotes, but sometimes I simply have to make an exception. Lord Peter Wimsey books often produce such exceptions, and so does A Countess Below Stairs.
"Rupert, none of your servants are socialists, I hope?"
"Good heavens no, I shouldn't think so. I mean, I haven't asked. Surely you don't have to be a socialist to want to have a bath?"
"It often goes together," said Muriel sagely.
And so they played some of the world's loveliest piano music—the exiled homesick girl, the humiliated, tired old man. Not properly. Better than that.
Torn between despair and embarrassment, between loneliness and shame, the earl's dog stood before them, his great head raking the room. He had done it, the unspeakable thing. The degradation, the horror of it, was behind him—and now where was she? Had it all been in vain; the debasement, the agony, the choice?
But no, it was all right. He'd seen her. She was there. She would make whole what was broken, console him for his master's absence, would understand his imperative need to be scratched now, this minute, and for a long time in that special place behind his ear.
It's seems a bit like stating the too obvious at this point, but the rating I'm giving this book is a solid A. There's no other alternative — trust me on this. What's a bit funny, though, is that I'm not head over heels for any of the characters, nor really the writing either, which is usually the case for me. I just completely and utterly love the whole book.

To end this post, I'm going to post the link to a music video on YouTube. The song is I Saved the World Today by The Eurythmics and no, there's no apparent connection. But when I first read A Countess Below Stairs, the single had just been released and was being played on the radio as I read the book, and so the two will always, for me, be interconnected.