Coming out of the woodwork
— Love @ 09:19
Comments (3)
Filed under:
General booktalk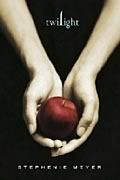 You may, if you've read this blog a while, remember that I read Stephenie Meyer's Twilight books a few months back. I found them quite okay, almost addictive, though I had a few problems with certain things (and I don't actually quite understand why I liked them, but that's another matter), and this I said in my reviews of them.
Now, I'm sure most of you have noticed that there are a lot of Twilight fans about, and that a lot of them take things very seriously. Most of them are rational creatures and perfectly fine with people disagreeing with them, or the cast of the film not corresponding exactly to the images in their heads, or whatever else might run contrary to their view of things. Then there are the rest, and a few days ago I had the joy of one of them commenting on my Twilight post. I've debated long and hard with myself if I should approve these comments or not, because they attack not only me, but some of the other people who commented on that post as well, but in the end I decided to go ahead and post them, because I figure most of you will appreciate the lol-factor (as they say) in this.
The commenter, who dubbed her(?)self Team Edward, left the following comments on this post. See if you can follow everything she's saying, because I sure can't!
ok..ppl if you havent noticed THIS ROCKS.
ok..first of all TWILIGHT SHOULDNT deserve a B??????? like hello! it should deserve an A+++++++++++! Im like the only one in this conversation that actually likes talking about the book., normally .instead of the collection. I HAVE TO SAY, go READ it before u make a fool of yourself saying how u have the collection and stuff. IF YOU HAVENT READ IT GO SHOOT YOURSELF..or ill do it for you. I MEAN COME ON!. geesssssss like EVA?! who in the world are you to say 'soul mate" LIKE WTF???? we talk about TWILIGHT cuz of EDWARD..I DONT GIVE A S*** if you dont like EDWARD..well I DO..SO GO FUCK YOURSELF.!

I HATE JACOB BLACK AND EVA!
OH AND EVA…and NICOLE B. yeah…U CAN FIND A SOULMATE AT 17! FUCK ITS THE REAL WORLD..PPL FIND EACHOTHER AT 13..so like GET A LIFE? WHY WOULD U EVEN BOTHER SATYING THAT SHIT ABOUT TWILIGHT..if you hate that then LIKE..wow! =\ U PPL HAVE NO LIFE…U NEED TO USE A BRAIN ONCE IN A WHILE! GOSHHHHHHH. :|
yeah. so like I MRS.CULLEN! if you ahve a problem with the age 17 then like wow. WHO CARES.its a book with beautiful story. GOSH. GOOOOODD JOBBBB STEPHANIE MEYER.