Mamma sa att jag var sjuk; Julie Gregory
— Love @ 21:13
Comments (1)
Filed under:
A-Z Reading Challenge
,
Biographies
,
D
,
Diseases and disorders
,
Swedish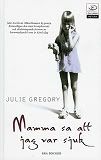 Mamma sa att jag var sjuk
by Julie Gregory
Original title: Sickened


For the A-Z reading challenge.
Swedish
259 pages
Bra Böcker
ISBN: 978-91-7002-361-6
First line: Det värsta var att bli rakad.
Back cover blurb:
An unusual memoir describes growing up as the victim of Munchausen by proxy, a dangerous form of child abuse in which her mother invented or caused a series of illnesses and ailments, and her struggle to escape her mother's serious psychological problems to rebuild her life as a healthy, compassionate young woman.
(This text refers to an edition other than the one I read.)
Thoughts: This book paints a truly horrific picture of Gregory's childhood and adolescence, but while it was moving at times, I just couldn't like it. I always feel bad when I don't like a book by someone who's gone through terrible things, but there are writing styles I just can't stand, and Gregory's is one of them. Perhaps I'd have got more out of the book, had I read it in the original English, but I didn't and I don't plan on it either, so I guess I'll never know now.

I'm giving the book a D rating, because as a book it just wasn't very good at all. It makes my stomach churn that anyone has had to go through what Gregory has, though. It's absolutely terrible and chilling that someone would treat their child that way.