Some Danger Involved; Will Thomas
— Love @ 19:56
Comments (1)
Filed under:
A-Z Reading Challenge
,
B
,
Back to History
,
English
,
Historical
,
Mystery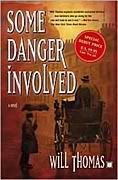 Some Danger Involved
by Will Thomas


For the Back to History and A-Z reading challenges.
English
302 pages
Touchstone
ISBN: 978-0-7432-5619-3
First line: If someone had told me, those many years ago, that I would spend the bulk of my life as assistant and eventual partner to one of the most eminent detectives in London, I would have thought him a raving lunatic.
Back cover blurb:
An atmospheric debut novel set on the gritty streets of Victorian London, Some Danger Involved introduces detective Cyrus Barker and his assistant, Thomas Llewelyn, as they work to solve the gruesome murder of a young scholar in London's Jewish ghetto. When the eccentric and enigmatic Barker takes the case, he must hire an assistant, and out of all who answer an ad for a position with "some danger involved," he chooses downtrodden Llewelyn, a gutsy young man with a murky past.
As they inch ever closer to the shocking truth behind the murder, Llewelyn is drawn deeper and deeper into Barker's peculiar world of vigilante detective work, as well as the heart of London's teeming underworld.
Thoughts: Sometimes, when you read the first line of a book, you just know that you're going to end up loving the whole book. This one had one of those and I was not disappointed in the least. It reads very much like a classic Holmes-type detective story, but is in fact written just a few years ago.

And oh, Victorian London! It's one of my favourite settings for books, I have to admit. All that grime and slum and, well, everything about it — I adore it. As for the story line itself, it was pretty good. It wasn't obvious whodunnit, but there were a couple of clues that you could've picked up on (unless you're as dense as me, of course), which is nice. I don't like mysteries where the solution is too obvious, but neither do I like when it's so surprising you still can't see the clues even when you know the answer.

This was the first in a series and although I like it, I'm not sure I'll read the following books. At least I'm not absolutely dying to.

For the moment, rest assured that the B grade I'm giving it is very well-deserved.