Flambards in Summer; KM Peyton
— Love @ 15:11
Comments (2)
Filed under:
A-Z Reading Challenge
,
C
,
English
,
Historical
,
Young Adult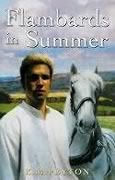 Flambards in Summer
by KM Peyton


For the A-Z Reading Challenge.
English
188 pages
Oxford University Press
ISBN: 978-0-19-275054-9
First line: The RFC ditty with the sad tune, which Christina had sung several times with Will and his friends when he had been home on leave, would not leave her head.
Back cover blurb:
Widowed at twenty-one, Christina has returned to Flambards to find much has changed. The First World War is well underway, with Uncle Russell and her beloved Will both dead, while Mark is missing, presumed killed. Flambards itself is run-down, neglected and completely overgrown.

Christina vows to return the manor house to its former glory, and works hard to transform the home of her childhood. It is only when a familiar face appears at her door one day that she realizes that Flambards may even bring her love again…
Thoughts: This is the third of four books about Flambards and I finished it in one sitting. Like the previous books in the series, it's a nice enough read and, while still considered YA, decidedly more adult than the other two.

While I don't like it quite as much as Flambards (which I think is my favourite of the four), I still give it a C rating.