Farlig midsommar; Tove Jansson
— Love @ 18:23
Comments (1)
Filed under:
A
,
Adventure
,
Children's lit
,
Decades '08
,
Fantasy
,
Swedish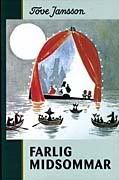 Farlig midsommar
by Tove Jansson
Title in English: Moominsummer Madness


For the Decades '08 reading challenge (first published 1954).
Swedish
146 pages
Alfabeta
ISBN: 91-501-0478-0
First line: Mumintrollets mamma satt på trappan i solskenet och riggade en barkbåt.
Back cover blurb:
Där kommer en teater på drift och med den driver muminfamiljen in i en midsommarnatt som är full av trolldom och överraskning, av nya vänner och fiender.
Vet ni att hattifnattar kommer ur frö och att man måste så dem på midsommarnatten? Har ni nånsin borrat hål genom ert eget golv eller sett en självlysande parkvakt? Och är ni medvetna om hur hemskt farligt det är att vissla på teatern?
Det här är en berättelse om vad som hände i den magiska månaden juni samma år som det eldsprutande berget rörde på sig och Mumintrollets mamma gjorde sin vackraste barkbåt.
Very short synopsis in English: After a huge wave floods Moomin Valley, the Moomins make their escape to a floating theatre.
Thoughts: I love Snufkin. I kind of always have. He's fantastic and I'm terribly sorry to those who don't read Swedish, because I am going to post some quotes and they are amazing but you won't be able to tell. Woe is you.
Skräm dem med Mårran föreslog hon. Det gör min syster.
Blir du snäll då? frågade Snusmumriken.
Naturligtvis inte! sa Lilla My och skrattade så att hon ramlade omkull.
Förmårrade ungar! sa Snusmumriken som stod och tvättade deras strumpor vid husknuten. Har ni glömt att vi tjärade taket i morse? Vill ni att jag ska överge er, kasta mig i sjön eller slå ihjäl er?
Ingetdera! skrek ungarna och drog honom i rocken. Du ska läsa ditt brev!
There's another quote from Snufkin that I love, but I forget which book it's from. No matter, I shall insert it here and pretend I'm doing it just because I was talking about him anyway.
One can never be entirely free, if one admires someone else too much.
That is a very wise thing to say, indeed.

Farlig midsommar receives an A grade as well, because it deserves it.