Historiens största mordgåtor; Andreas Nyberg (ed.)
— Love @ 10:51
Comments (0)
Filed under:
D
,
Swedish
,
True crime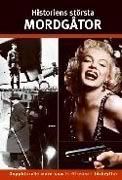 Historiens största mordgåtor
by Andreas Nyberg (ed.)


Swedish
214 pages
Bokförlaget Semic
ISBN: 91-552-3186-1
First line: I det dagliga livet har vi ett stort behov av ordning.
Back cover blurb:
FN:s kontroversielle generalsekreterare Dag Hammarskjöld dog i en flygkrash i Kongo 1961. En olycka menar många. Andra hävdar att en bomb placerats i planet. 1998 fick den sydafrikanska säkerhetskommissionen dokument som tyder på att landets säkerhetstjänst låg bakom kraschen.

Tändstickskungen Ivar Kreugers död 1932 brukar betraktas som självmord, men var det verkligen det? Han hittades skjuten, med en revolver i vänster hand trots att han var högerhänt. Mycket tyder på att han blev mördad av någon som ville åt hans enorma tillgångar.

Sonen till den världsberömda flygaren Charles Lindbergh kidnappades 1932 och återsågs aldrig. Man har antagit att han mördades. Men det finns åtminstone två personer som lagt fram bevisning för att de är den försvunne sonen.

Författarna skriver kunnigt och underhÃ¥llande om nio av historiens största mordgÃ¥tor, bland annat om Marilyn Monroe, den omstridde amerikanske fackföreningsledaren Jimmy Hoffa och Hammarbymordet — Sveriges kanske mest uppmärksammade mordfall.
Thoughts: Apparently all the authors involved in this joint effort are conspiracy theorists and it shows! It's true that circumstances surrounding these nine cases were a little iffy, but there are limits to how far you can go with wild theories without sounding like a complete nutter. This somewhat ruined what would have otherwise been a pretty interesting book, and pulls the grade down to a D.