Trollkarlens hatt; Tove Jansson
— Love @ 18:16
Comments (1)
Filed under:
A
,
A-Z Reading Challenge
,
Adventure
,
Children's lit
,
Fantasy
,
Swedish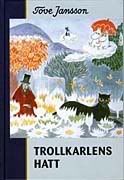 Trollkarlens hatt
by Tove Jansson
Title in English: Finn Family Moomintroll


For the A-Z reading challenge.
Swedish
158 pages
Alfabeta
ISBN: 91-501-0479-9
First line: En grå morgon föll den första snön över Mumindalen.
Back cover blurb:
Den här berättelsen börjar med trolldom en tidig vÃ¥rmorgon och slutar en varm augustinatt som aldrig kommer att glömmas i Mumindalen. Däremellan ligger Mumintrollets lÃ¥nga sommar, full av solsken och Ã¥skväder. Den kunde ha varit som en vanlig sommar med upptäckter av nya öar, med lÃ¥ngrevsfiske i duggregn och lyckliga bad i bränningarna och hemlighetsfulla nattvandringar—men sÃ¥ hittade muminfamiljen Trollkarlens hatt. Och efter det var ingenting som vanligt längre.
Farlighet och spänning hade kommit in i dalen och tassade hotfullt kring deras hus. Varje dag händr otroliga och upprörande saker—de hade med andra ord aldrig haft sÃ¥ roligt förr!
Det här är historien om små och stora kryp och om glada händelser och hemska händelser som alltid måste vara hopblandade för att ens sommar ska bli riktig och underbar.
Very short synopsis in English: After the Moomins find a peculiar hat, their summer turns into a strange one.

Thoughts: MOOMINS! =D Coherence has gone right out the window, sorry.

This is basically amazing and possibly my favourite Moomin book. Read it! (Banquo says it better.)

An A rating, yes.