Allting som är trevligt är bra för magen; Tove Jansson
— Love @ 17:54
Comments (1)
Filed under:
C
,
Children's lit
,
Fiction
,
Swedish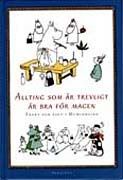 Allting som är trevligt är bra för magen
by Tove Jansson


Swedish
92 pages
Schildts
ISBN: 951-50-1301-1
First line: Det är underligt med vägar och floder, funderade Sniff, man ser dem gå förbi och får en hemsk list att vara nån annanstans.
Back cover blurb:
Tove Janssons muminböcker är en outtömlig källa till skratt, insikter och igenkännande. Citaten i Allting som är trevligt är bra för magen är valda ur de åtta textböckerna från Kometen kommer till Sent i november. Citaten speglar varje boks speciella stämning och karaktärer, men samtidigt är de underbart allmängiltiga och träffande. I sin korta form ger de uttryck för den osvikliga humor och livshållning som är muminvärldens särmärke.
Very short synopsis in English: The Moomin-books are a source of many a good quote. Here is a collection of some of them.

Thoughts: A cute collection of quotes from the Moomin books, this gets a C grade.