Unnatural Death; Dorothy L Sayers
— Love @ 20:55
Comments (5)
Filed under:
A
,
A-Z Reading Challenge
,
English
,
Historical
,
Mystery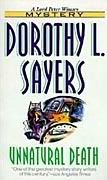 Unnatural Death
by Dorothy L Sayers


For the A-Z reading challenge.
English
280 pages
Harper Mystery
ISBN: 978-0-06-104358-1
First line: "But if he thought the woman was being murdered—"
Back cover blurb:
The wealthy old woman was dead—a trifle sooner than expected. The intricate trail of horror and senseless murder led from a beautiful Hampshire village to a fashionable London flat and a deliberate test of amour—staged by the debonair sleuth Lord Peter Wimsey.
Thoughts: I realise this might not sound like much of a book, if judged by its back cover blurb, but I have come to the conclusion that, apart from Murder Must Advertise, this is my favourite Wimsey mystery.
I am in the habit of keeping a pad of transparent Post-It notes in different colours by my side whenever I'm reading a book, so that whenever I come across a paragraph (or just a sentence) that I really like, and might want to quote in a later review, I can stick one on the page for easy access later. I average somewhere between five and ten notes in a really good book and less if it's not all that special. After I turned the last page of Unnatural Death, I went back and counted all the Post-Its I'd stuck in it. There were twenty-three of them. Suffice to say, there was a lot to like about it!
One thing that holds true to the entire series of Sayers's mysteries, not just this installment, is that the resolutions, and the process of getting there, relies so much on forensic evidence. I'll grant you that I haven't read a terrible lot of mystery from this era of late (apart from Sayers, I've mainly read Christie, Marsh and Quentin Patrick, and those were mostly a while ago), but I have the definite impression that they don't generally deal with forensic evidence (finger printing, shoe prints, fibers &c) in at all the same manner. This is most certainly a point in favour of Sayers, at least in my way of thinking, and probably a big reason why I like her novels so much.
Another reason, of course, is her characters. In this book, we meet not only Lord Peter Wimsey himself, but also Detective-Inspector Charles Parker, Miss Alexandra Katherine Climpson, and others.
Miss Climpson is quite the character and any part of the story she's involved in is invariably a hoot to read, her letter-writing especially.
"[…] WELL!!! The AUNT of these two girls came to pay a visit to Mrs. Budge's girl this afternoon, and was introduced to me—of course, as boarder at Mrs. Budge's I am naturally an object of local interest—and, bearing your instructions in mind, I encourage this to an extent I should not otherwise do!!
"It appears that this aunt was well acquainted with a former housekeeper of Miss Dawson's—before the time of the Gotobed girls, I mean. The aunt is a highly respectable person of FORBIDDING ASPECT!—with a bonnet(!), and to my mind, a most disagreeable CENSORIOUS woman."
"'Better to reign in hell than serve in heaven.' Dear me! I wonder if it's uncharitable to compare a fellow-being to Satan? Only in poetry of course—I dare say that makes it not so bad."
There is a strong under-current of a lesbian love story. It's never spoken aloud, but you'd be silly not to read it between the lines at all. Actually, there are two stories of this kind within the novel. One with a happy outcome, one with a disastrous end.
"'Betty,' she said, 'I mean to be an old maid so does Miss Clara, and we're going to live together and be ever so happy, without any stupid, tiresome gentlemen.'"
And so they did, and it was adorable, even if all we hear of it is in the recollections of the people who were around them.
Then of course there's my darling Parker. My favourite will always be Wimsey, but Parker holds a special place in my heart as well.
Parker was one of those methodical, painstaking people whom the world could so ill spare. When he worked with Wimsey on a case, it was an understood thing that anything lengthy, intricate, tedious and soul-destroying was done by Parker. He sometimes felt that it was irritating of Wimsey to take this so much for granted.
The best thing about Parker is not him alone, though—it is how Wimsey and he address each other and act around one another.
"[…] Why this interest all of a sudden? You snub me in my bed, but you woo me in my bath. It sounds like a music-hall song of the less refined sort. Why, oh why?"
"It's starting to rain," observed Parker, conversationally.
"Look here, Charles, if you're going to bear up cheerfully and be the life and soul of the expedition, say so and have done with it. I've got a good, heavy spanner handy under the seat, and Bunter can help to bury the body."
"I think this must be Brushwood Cross," resumed Parker, who had the map on his knee. "If so, and if it's not Covert Corner, which I thought we passed half an hour ago, one of these roads leads directly to Crofton."
"That would be highly encouraging if we only knew which road we were on."
"We can always try them in turn, and come back if we find we're going wrong."
"They bury suicides at cross-roads," replied Wimsey, dangerously.
"Bear up, doctor," said Parker, "he's always like this when he gets an idea. It wears off in time."
Mind you, Wimsey on his own is not bad either.
"It's quite all right," he said apologetically, "I haven't come to sell you soap or gramophones, or to borrow money, or enrol you in the Ancient Froth-blowers or anything charitable. I really am Lord Peter Wimsey—I mean, that really is my title, don't you know, not a Christian name like Sanger's Circus or Earl Derr Biggers. I've come to ask you some questions, and I've no real excuse, I'm afraid, for butting in on you—do you ever read the News of the World?"
Nurse Philliter decided that she was to be asked to go to a mental case, and that the patient had come to fetch her in person.
I would be fool indeed to quote you all of my favourite passages, but if you thought you'd be able to get away without a single one, well—more fool you! Just be glad I exercised at least some level of restraint (little though it was—I fear this review is even more fragmented and scatter-brained than is my usual habit).

I don't think I really need to say it, as it should be pretty obvious by now, but Unnatural Death receives an A.

And that's that for now.