Sanna historier om andra världskriget; Paul Dowswell
— Love @ 13:08
Comments (1)
Filed under:
A-Z Reading Challenge
,
C
,
History
,
Non-fiction
,
Swedish
,
Young Adult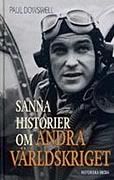 Sanna historier om andra världskriget
by Paul Dowswell
Original title: True Stories of the Second World War


For the A-Z challenge.
Swedish
160 pages
Historiska Media
ISBN: 91-85057-78-9
First line: Trots att det nu gått mer än sextio år sedan andra världskriget rasade kommer det hela tiden nya filmer, tv-dokumentärer och böcker om kriget som vittnar om ett fortsatt starkt intresse för kriget.
Back cover blurb:
Sanna historier om andra världskriget berättar om några av de mest hjältemodiga, mest katastrofala och några av de mest avgörande händelserna under andra världskriget. Paul Dowswell förmedlar en stark känsla av det lidande människor drabbades av, men också av det med som många soldater och civila visade. Berättelserna skildrar olika sidor av kriget; de spektakulära sjöslagen mellan jättelika krigsfartyg, de stora drabbningarna mellan arméer med hundratusentals man, dueller mellan fientliga prickskyttar och ensamma individers kamp när de ställs inför en nästan säker död.
Thoughts: What a waste of human life is war. Especially the sort of modern warfare that was first seen in the first and second world wars. With a machine gun (or a hundred…), where's the need for man-to-man combat? With the atom bomb? It's really, really terrifying. Not that man-to-man combat with swords, bayonets and rifles, as of old, isn't horrifying in its own right (I can't decide if I think it more or less brutal than the impersonality of modern war).

While an interesting subject, Dowswell's writing leaves something to be desired, so the rating ends up nothing more than a C.