Standish; Erastes
— Love @ 13:38
Comments (2)
Filed under:
Back to History
,
D
,
English
,
GLBT interest
,
Historical
,
Romance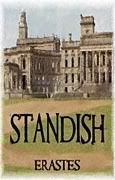 Standish
by Erastes


For the Back to History reading challenge.
English
215 pages
P.D. Publishing Inc.
ISBN: 1-933720-09-3
First line: The candle guttered, and Ambrose looked up at it with a frown, the long blond hair falling away from the sides of his face.
Back cover blurb:
A great house. A family dispossessed. A sensitive young man. A powerful landowner. An epic love that springs up between two men. Set in the post-Napoleonic years of the 1820's, Standish is a tale of two men — one man discovering his sexuality and the other struggling to overcome his traumatic past.

Ambrose Standish, a studious and fragile young man, has dreams of regaining the great house his grandfather lost in a card game. When Rafe Goshawk returns from the continent to claim the estate, their meeting sets them on a path of desire and betrayal which threatens to tear both of their worlds apart.

Painting a picture of homosexuality in Georgian England, Standish is a love story of how the decisions of two men affect their journey through Europe and through life.
Thoughts: From the moment I came across this book on Amazon.co.uk, I knew I had to read it. The story sounded amazing and I just love historical gay romance, there's no denying that. Unfortunately, I was in for quite a disappointment.

I started reading it in January, got about a third of the way through during my first sitting with it, and then I put it down and did not pick it up again until now. I kept trying to persuade myself that if I read only one chapter a day, I would finish it in less than a month, but there just was no way of doing it. I wanted so badly to love the story, and I just couldn't do it. I had such a hard time with the language and the way it was written — they didn't appeal to me at all.

Finally, I picked it up again and found that if I just skimmed certain bits, it was tolerable. And so I finished the remaining two-thirds in a second sitting. I even, towards the end, found myself almost enjoying it. A part of the reason for this was, I dare say, the character of Padraig Fleury who appeared in the second half of the novel.

In the end, I didn't like it even half as much as I had hoped to going in, but on the other hand, I did like it more than I thought I would after the first third. Even though it's nowhere near the best book I've ever read, I am glad I decided to stick with it and read the entire thing. I have rarely been so close to making a book a DNF (did not finish), though. If it weren't for the fact that I had it on my (no changes allowed) list of books for the Back to History challenge, or the fact that I had paid money for it and didn't much like the idea of that being wasted, I don't think I would have finished.

However, apart from all that I have outlined above, there was another thing that particularly bothered me. At one point Ambrose reads Dracula. Which is, y'know, cool and all. Except Standish is set in 1821 and Dracula wasn't published until 1897, so unless there was time travel that I completely missed, that's a big mistake on the part of the author, and that loses them a lot of respect from me.

I should think it obvious that the rating is not going to be a great one, but in the end, solely thanks to Fleury, it does manage a D, rather than an F. I realise we are only at the end of February and that much of the reading year remains, but I will be much surprised if this does not end up being "Disappointment of the Year."