Flambards Divided; KM Peyton
— Love @ 15:34
Comments (2)
Filed under:
D
,
Decades '08
,
English
,
Historical
,
YA Challenge 2008
,
Young Adult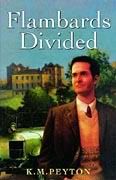 Flambards Divided
by KM Peyton


For the Young Adult and Decades '08 (first published 1981) reading challenges.
English
283 pages
Oxford University Press
ISBN: 978-0-19-257055-6
First line: Christina had dreamed of Will again.
Back cover blurb:
When Christina marries Dick, she hopes that life at Flambards will settle down at last. But the village gossips find it scandalous that she, a rich landowner, should marry a peasant, and show their disapproval in no uncertain terms.

Even more unsettling is Mark's return from the war in France. Badly injured and resentful of Dick, Mark is still the imposing character of old who stirs up confusing feelings in Christina. Just as before, Christina finds her loyalties divided between two very different men, and knows she has a terrible decision ahead of her…
Thoughts: This is by far my least favourite book in the series. It is the last one and the most grown-up, so you'd think I'd like it better, being older now than the first time I read it. But no. In fact I feel as though Peyton quite ruins my favourite character (even if his reactions are understandable, I still don't want him to have them quite so violently. Things could have worked out, I am quite certain of it).

Another thing is that all the other books are seen completely from Christina's perspective, but here we suddenly get passages written from someone else's point of view. Normally I wouldn't have minded that, but with three books behind you, it's a little late to start changing things around without it seeming a little strange.

In the end, whilst the rest of the Flambards-books have received Cs, this one gets a D, for the reasons outlined above.