Kydd; Julian Stockwin
— Love @ 18:23
Comments (2)
Filed under:
Adventure
,
C
,
English
,
Historical
,
Seafaring Challenge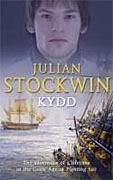 Kydd
by Julian Stockwin


For the Seafaring Challenge.
English
440 pages
Coronet Books
ISBN: 0-340-79474-7
First line: 'The Honourable Member for Molton.'
Back cover blurb:
Guns. Guts. Courage. Discipline. Death.

The year is 1793. Europe is ablaze with war and men are urgently needed to man the ships. Press-ganged off the streets of Guildford, young wig-maker Thomas Paine Kydd must learn the harsh realities of shipboard life very quickly. It's that or die.

In all the danger of tempest and battle, Kydd eventually learns to admire the skills and courage of his shipmates. He comes to relish the challenge of the 98-gun line-of-battle ship HMS Duke William, and the camaraderie of its battle-hardened crew. Kydd is loyal, brave and passionate. But will that be enough to turn the raw youth into a true sailor?
Thoughts: All other novels I've read on this theme have, more or less, featured officers as the main characters. This one doesn't, which in a sense made it more interesting. However, I've discovered that I rather do prefer to read about officers rather than able (or ordinary, as the case may be) seamen.

This is just the first in a series of books, and while it was certainly okay (once I got in to it properly, which took a while, because of the tedium of everyday life aboard a blockade-cruising ship) , I have no urge to read the following books. If it had given me taste for more, my rating would have been higher, but as things are, I give it a C.