Människohamn; John Ajvide Lindqvist
— Love @ 12:27
Comments (0)
Filed under:
C
,
Fiction
,
Swedish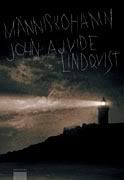 Människohamn
by John Ajvide Lindqvist


Swedish
451 pages
Ordfront
ISBN: 978-91-7037-373-2
First line: Välkommen till Domarö.
Back cover blurb:
"Pappa, vad är det där? PÃ¥ isen?"
Det är en strålande vinterdag. Högst upp i Gåvastens fyr står Anders med sin sexåriga dotter Maja. Isen ligger snötäckt så långt ögat kan nå och Anders kan inte se något speciellt där hans dotter pekar.
Maja går för att undersöka och fem minuter senare börjar mardrömmen. Trots att det inte finns någonstans där Maja kan försvinna, är det just det som händer. Hon försvinner. Spårlöst. Anders och hans hustru Cecilia har inte längre något barn.
Det lyckliga livet på ön Domarö i Roslagens skärgård är slut. Bara förtvivlan och skilsmässa återstår.
Ett par år senare återvänder Anders till ön, nersupen och deprimerad men fast besluten att leva. Då nås han av ett meddelande som tänder ett vansinnigt hopp: Maja finns ännu i världen, på en plats där han inte kan nå henne.
Ett sökande tar sin början. Det kommer att föra Anders till Domarös hemlighållna förflutna, mot havets mörka hjärta. Genom avgrunden måste han gå för att finna den han älskar. Om det nu verkligen är hon.
En mopedmotor hörs i skogen om nätterna. Brevlådor vandaliseras och hus brinner. Havet kastar sig mot klipporna. Någon hatar oss.
Thoughts: Människohamn is Ajvide Lindqvist's most recent novel and as I've liked his previous books a whole lot, I pretty much had to go out and get this as soon as I could when it was out.
On the whole, it's a good book, but I felt that the ending was a bit lacking (endings are, to be honest, not Ajvide Lindqvist's forte) and so it doesn't reach the same heights as LÃ¥t den rätte komma in (his first novel, now available in English as Let the Right One In — read it) did.
Människohamn does have its moments, though. I'm thinking, of course, of the Smiths-quoting ghosts. It's impossible not to feel utter glee at them. Well, it's impossible if your name is Love and you happen to be a big Smiths/Morrissey fan…
När sommaren kom stod det klart att Henrik och Björn hade hittat sin grej. Meat is murder [sic] hade kommit några månader tidigare och Anders tyckte att var en helt okej skiva, men inte som Hatful of hollow [sic]. Henrik och Björn tyckte annorlunda. De kunde varenda textrad på skivan och båda hade blivit vegetarianer, möjligen de första någonsin på Domarö.
That John Ajvide Lindqvist is a big Morrissey fan is a fact well-known to those who know it well1, and the title of his first novel is actually taken from a song written by Morrissey. It bothers me slightly that the English title of that book isn't quite what it should be (Let the Right One Slip In), but I guess you can't have it all.

Människohamn is a decent book, but not scary, which was both quite nice (as it didn't keep me from falling asleep) and quite disappointing (I was expecting to be scared). I'm giving it a C, which would have been a higher grade if the ending had been better and the rest of the book hadn't had quite so many passages that didn't really move the story forward.

1. Cookies to the person who can tell me who I stole that phrase from.