En liten chock; Johanna Lindbäck
— Love @ 11:45
Comments (0)
Filed under:
C
,
Swedish
,
Young Adult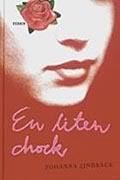 En liten chock
by Johanna Lindbäck


Swedish
272 pages
Tiden
ISBN: 978-91-85243-98-3
First line: Han ansträngde sig inte direkt för att komma i tid, det kan man inte säga.
Back cover blurb:
Gustav hoppades på tre saker när han började gymnasiet:

En flickvän, eller en tillfällig tjej att ha sex med, åtminstone en gång.
En massa nya kompisar med samma intressen som han, det vill säga inte sport.
En ny personlighet.

Nu är det bara ett par mÃ¥nader kvar till studenten och Gustav har nästan gett upp hoppet. Men sÃ¥ bildar han och Elin i klassen en pakt. De ska göra nÃ¥got oväntat—nÃ¥got som gör dem mindre missnöjda med varandra och sina förutsägbara liv. NÃ¥got som gör att de slipper dö av tristess och leda.
Det drar ihop sig till en liten chock…
Thoughts: This was a decent little YA read. Most of the reason I liked it as much as I did (not more than a C rating, though) is because it's set in Umeå, which is where I studied at university, so I know the city. It's always neat to have places you are familiar with appear in fiction.