Sent i november; Tove Jansson
— Love @ 11:22
Comments (0)
Filed under:
Adventure
,
C
,
Children's lit
,
Fantasy
,
Swedish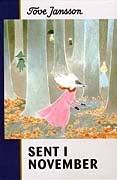 Sent i november
by Tove Jansson


Swedish
164 pages
Alfabeta
ISBN: 91-501-0473-X
First line: En tidig morgon i Mumindalen vaknade Snusmumriken i sitt tält och kände att det var höst och uppbrott i luften.
Back cover blurb:
Det är höst i Mumindalen. För dem som kommer dit ser allting annorlunda ut, inte riktigt som de hade tänkt sig. Och muminfamiljen tycks inte vara hemma. De som samlas i det tomma muminhuset får försöka bo och leva med varandra bäst de kan. Det är Filifjonkan och Hemulen, Mymlan, Onkelskruttet och den lilla homsan Toft. Långt bortifrån kommer Snusmumriken vandrande tillbaka i dalen där han tappat något mycket viktigt. Ute i trädgården ligger den blå glaskulan på sin pelare och speglar stora förändringar medan mörkret blir tätare omkring dem. Och slutligen en kväll börjar en helt liten men stadig ljuspunkt lysa inne i glaskulan.
Thoughts: In this book, we don't even meet the Moomins. They are off somewhere (probably on the island they relocated to in Pappan och havet), and other characters move into their house in Moomin valley. Again, it's a bleak and depressing tale, and most of the people populating the story are unappealing. At least Snufkin hangs around for a greater part of the story.

A C grade is what I give this. It's not that it's a bad story, exactly, it's just that compared to Jansson's earlier works, I don't like it at all as much.