Ser mitt huvud tjockt ut i den här?; Randa Abdel-Fattah
— Love @ 18:00
Comments (0)
Filed under:
C
,
Fiction
,
Swedish
,
Young Adult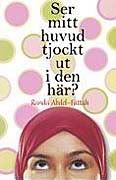 Ser mitt huvud tjockt ut i den här?
by Randa Abdel-Fattah
Original title: Does My Head Look Big in This?

Swedish
350 pages
Bonnier Carlsen
ISBN: 978-91-638-5367-8
First line: Det slog mig under ett intensivpass på löpbandet därhemma medan jag tittade på en Vänner-repris för nittonde gången eller så.
Back cover blurb:
High school är tufft nog utan slöja…

Vad ska mina klasskompisar säga när jag kommer till skolan med slöja för första gången? Gissa om de kommer att freaka ut. Det skulle vara lättare att gå in i klassrummet naken. Har jag blivit en religiös fanatiker? Att bli den första tjejen med slöja kommer att stämpla mig som tidernas största loser.

Och vad ska Adam säga?

Amals beslut att bärja [sic] slöja kräver mycket mod. Klarar hon av att stå emot alla fördomar, behålla sina kompisar och få skolans snyggaste kille att tycka att hon är läcker?
Thoughts: I've seen this talked about all over the place, so when I randomly saw it at the library, I took it home with me. And it's a good story. It's not your typical YA novel in some ways, but in other ways it is completely.

A C grade is reasonable, and I'd say more about it, except I've fallen behind on my so-called reviews and when you have fourteen to do to catch up, well, you don't have the energy to say much about each one (at least I don't!).