Bananflugornas herre; Fredrik Eklund
— Love @ 18:05
Comments (0)
Filed under:
C
,
Fiction
,
GLBT interest
,
Swedish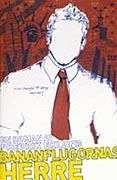 Bananflugornas herre
by Fredrik Eklund
Title translated to English: Lord of the Fruitflies


Swedish
152 pages
Debutantförlaget
ISBN: 91-974438-4-0
First line: "Ever thought of doing movies?"
Back cover blurb:
"Ever thought of doing movies?"

Jag stirrade på skärmen utan att förstå. Avsändaren var Male Eagles. Om mamma eller pappa hade ringt på mobilen och sagt att middagen var klar. Om Joel hade velat gå ut och dricka öl. Om staden bara hade visat mig en enda glimt av vad jag förväntade mig i livet. Då hade jag aldrig gjort porr.

Bananflugornas herre tar oss med på en resa in det förbjudna tillsammans med en sökande och stolt huvudperson. En som vill befria sig från omgivningens konventioner, visa sina fjädrar för hela världen, finna sanningen på sitt sätt. Det är en bok om att skapa sig själv, om utanförskap och homosexualitet, om modet att välja.
Very short synopsis in English: A novel about a young Swedish man, on a journey, both physical and mental, to start doing gay porn in the US.

Thougths: I started this fairly late at night and realised immediately I wouldn't put it down until I'd finished it. Luckily, it was a pretty short novel, so the impact it had on my sleep was minimal. Minimal is also the impact it has had on me since I finished it. It's only a week ago as I write this, but I can't remember the name of the main character no matter how hard I try (it might possibly be Jonas).

It was decent enough, I don't deny that, but it's not a book you remember very well after and none of the characters were once I fell completely in love with. Still, it earns a C. Could have been better, but could also have been so much worse.