The 2008 book sale
— Love @ 14:17
Comments (4)
Filed under:
Shopping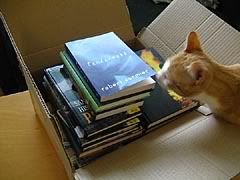 Every year, at the end of February, there is a huge book sale here in Sweden. In the past couple of years, it's lost a bit of its appeal as it's not so special anymore as it used to be, but I am still a huge fan.
Most bigger book stores open at midnight to allow book-loving bargain hunters inside to make the find of the year. As much of a bibliophile as I am, I've still not been to one of these late-night book store events. Before, it was because I did not have the opportunity to get there and back again at that time of night, but lately it's more to do with the fact that I aim my interest at books in English, of which there aren't many to find in the regular bookshops. However, the book sale is also very much in evidence in the online shops, and so I usually aim my attention in that direction.
This year, I bought twenty books all in all. (Actually nineteen. The twentieth was a bonus book that I Did. Not. Want, but couldn't decline (it was tacked on to my order no matter what I did), and have no idea what to do with.)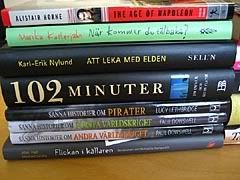 The Age of Napoleon by Alistair Horne (non-fiction)
När kommer du tillbaka? by Marika Kolterjahn (YA fiction)
Att leka med elden by Karl-Erik Nylund (non-fiction, on sects)
102 minuter (102 Minutes: The Untold Story of the Fight to Survive Inside the Twin Towers) by Jim Dwyer & Kevin Flynn (non-fiction, about the time from the 9/11 attack until the WTC towers collapsed)
Sanna historier om pirater (True Stories of Pirates) by Lucy Lethbridge (YA non-fiction)
Sanna historier om första världskriget (True Stories of the First World War) by Paul Dowswell (YA non-fiction)
Sanna historier om andra världskriget (True Stories of the Second World War) by Paul Dowswell (YA non-fiction)
Flickan i källaren (Girl in the Cellar: the Natascha Kampusch Story) by Allan Hall & Michael Leidig (non-fiction)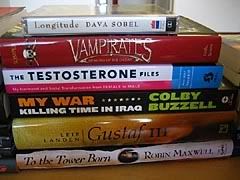 Longitude by Dava Sobel and read by David Rintoul (non-fiction, audio book I thought was a regular book and thus a bit of a mistake purchase)
Vampirates: Demons of the Ocean by Somper (YA fiction)
The Testosterone Files by Max Wolf Valiero (non-fiction, about one man's transition)
My War: Killing Time in Iraq by Colby Buzzell (non-fiction)
Gustaf III by Leif Landén (non-fiction, about (perhaps un-surprisingly) Gustaf III)
To the Tower Born by Robin Maxwell (YA historical fiction)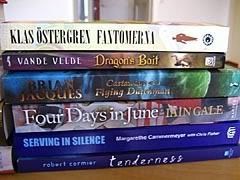 Fantomerna by Klas Östergren (the bonus book I didn't want)
Dragon's Bait by Vivian Vande Velde (YA fantasy)
Castaways of the Flying Dutchman by Brian Jacques (YA fiction)
Four Days in June by Iain Gale (historical fiction, about the battle of Waterloo)
Serving in Silence by Margarethe Cammermeyer med Chris Fisher (non-fiction, about a military nurse who told when she wasn't asked. You've probably heard about her before. I had, and I live in Sweden!)
Tenderness by Robert Cormier (YA fiction, about a teenaged serial killer)
As always, if you click on the photos, you are taken to larger versions of them.