Austenland; Shannon Hale
— Love @ 14:24
Comments (0)
Filed under:
C
,
Chick lit
,
English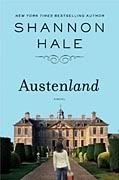 Austenland
by Shannon Hale


English
197 pages
Bloomsbury
ISBN: 1-59691-285-5
First line: It is a truth universally acknowledged that a thirty-something woman in possession of a satisfying career and fabulous hairdo must be in want of very little, and Jane Hayes, pretty enough and clever enough, was certainly thought to have little to distress her.
Back cover blurb:
Jane Hayes is a seemingly normal young New Yorker, but she has a secret. Her obsession with Mr. Darcy, as played by Colin Firth in the BBC adaption of Pride and Prejudice, is ruining her life. No real man can compare.
When a wealthy relative bequeaths her a trip to an English resort catering to Austen-crazed women, Jane's fantasies of meeting the perfect Regency-era gentleman suddenly become realer than she ever could have imagined. Decked out in empire-waist gowns, stripped of her modern appliances, Jane throws herself into mastering Regency etiquette and flirts with gardeners and gentlemen—or maybe even, she suspects, with the actors who are playing them.
It's all a game, Jane knows. And yet the longer she stays, the more her insecurities seem to vanish. Is she about to kick the Austen obsession for good, or could all her dreams actually culminate in a Mr. Darcy of her own?
Thoughts: I rarely, if ever, read pure chick lit, but I have to admit I have a soft spot for more or less anything Austen-related, so I felt I had to read this book (though I think I might have confused it with another Austen-inspired novel). It wasn't too bad, but it wasn't fantastic either. There was a little bit uncertainty on how it would end, but just a little. Still, I admit I got caught up in the story after a while and was quite happy with the ending, although I felt it was maybe a little bit too perfect. Some endings are like that.

A C this time, not so much for the writing itself, which was pretty boring, but for the character Mr. Nobley, who quite managed to win me over. Which I suppose was pretty much the whole point of the book.

Also, I would like to add that I am in no way ashamed about my own Colin Firth-as-Mr. Darcy obsession, thankyouverymuch.