Leave Myself Behind; Bart Yates
— Love @ 21:33
Comments (1)
Filed under:
A
,
English
,
Fiction
,
GLBT interest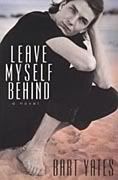 Leave Myself Behind
by Bart Yates


English
262 pages
Kensington Fiction
ISBN: 0-75820349-7
First line: I've never wanted a different mother.
Back cover blurb:
Meet seventeen-year-old Noah York, the hilariously profane, searingly honest, completely engaging narrator of Bart Yates's astonishing debut novel. With a mouth like a truck driver and eyes that see through the lies of the world, Noah is heading into a life that's only getting more complicated by the day.

His dead father is fading into a snapshot memory. His mother, the famous psycho-poet, has relocated them from Chicago to a rural New England town that looks like an advertisement for small-town America—a bad advertisement. He can't seem to start a sentence without using the "f"-word. And now, the very house he lives in is coming apart at the seams—literally—torn down bit by bit as he and his mother renovate the old Victorian. But deep within the walls lie secrets from a previous life—mason jars stuffed with bits of clothing, scraps of writing, old photographs—disturbing clues to the mysterious existence of a woman who disappeared decades before. While his mother grows more obsessed and unsettled by the discovery of these homemade reliquaries, Noah fights his own troubling obsession with the boy next door, the enigmatic J.D. It is J.D. who begins to quietly anchor Noah to his new life. J.D., who is hiding terrible, haunting pain behind an easy smile and a carefree attitude.
Thoughts: This book has been compared to Catcher in the Rye and, while it's been a couple of years since I read that, I can see the similarities.

I really fell for Noah, not in the sense that I am head over heels in love with him, but in the way that he is the one who grabbed my attention and pulled me into the novel. I think he's my favourite main character of late—his voice is just that great.

I know it's soon—I gave one out just the other day— but it's time for another A rating.