The World of Normal Boys; KM Soehnlein
— Love @ 13:06
Comments (0)
Filed under:
B
,
English
,
Fiction
,
GLBT interest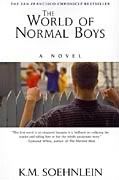 The World of Normal Boys
by KM Soehnlein


English
282 pages
Kensington Books
ISBN: 0-965-14638-3
First line: Maybe this is the moment when his teenage years begin.
Back cover blurb:
The time is the late 1970s – an age of gas shortages, head shops, and Saturday Night Fever. The place, suburban New Jersey. At a time when the teenagers around him are coming of age, Robin MacKenzie is coming undone. While "normal boys" are into cars, sports, and bullying their classmates, Robin enjoys day trips to New York City with his elegant mother, spinning fantastic tales for her amusement in an intimate ritual he has come to love. He dutifully plays the role of the good son for his meat-and-potatoes father, even as his own mind is a jumble of sexual confusion and painful self-doubt. But everything changes in one, horrifying instant when a tragic accident wakes his family from their middle-American dream and plunges them into a spiral of slow destruction.
Thoughts: The language in this book was beautiful, but bleak and depressing, and there was a constant feeling of impending doom. I found it hard, sometimes, to keep reading, because I was sure that disaster was waiting just around the corner. Keep reading I did, though, because putting the book down was even harder than not going on.

The World of Normal Boys receives a well-deserved B.