Rainbow Boys; Alex Sanchez
— Love @ 19:45
Comments (0)
Filed under:
C
,
English
,
Fiction
,
GLBT interest
,
Young Adult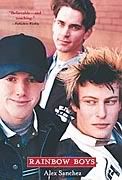 Rainbow Boys
by Alex Sanchez


–

English
262 pages
Simon Pulse
ISBN: 0-689-85770-5
First line: Jason Carrillo walked around the block a third time, working up his courage to go into the brownstone.
Back cover blurb:
High school's hard enough as it is without falling in love with your best friend–who's crushing on the most popular guy in school. Or feeling like your parents would throw you out if they knew you were gay. Or being afraid of who you are…
Thoughts: I've been meaning to get my hands on this book for quite some time, especially after two of my friends read and enjoyed it at around the same time last summer. Personally, I liked it well enough. It's your typical high school novel with a coming out theme, basically. No harm in that, of course, but it's been done a lot of times before and for me to fall head over heels in love with it, the language would have had to be better. It's not terrible, I just don't think it's earned more than a C rating from me, so that's what it's going to get.