Northanger Abbey; Jane Austen
— Love @ 18:15
Comments (2)
Filed under:
B
,
Classics
,
English
,
Historical
,
Romance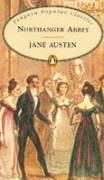 Northanger Abbey
by Jane Austen


English
236 pages
Penguin Popular Classics
ISBN: 0-14-062075-3
First line: No one who had ever seen Catherine Morland in her infancy would have supposed her born to be an heroine.
Back cover blurb:
Northanger Abbey is Jane Austen's amusing and bitingly satirical pastiche of the 'Gothic' romances popular in her day.

Catherine Morland, an unremarkable tomboy as a child, is thrown amongst all the 'difficulties and dangers' of Bath at the ripe age of seventeen. Armed with an unworldly charm and a vivid imagination, she must overcome the caprices of elegant society, encountering along the way such characters as the vacuous Mrs Allen, coquettish Isabella and the brash bully John Thorpe. Catherine's invitation to Northanger Abbey, in her eyes a haven of coffins, skeletons and other Gothic devices, does lead to an adventure, though one she didn't expect, and her misjudgement of the ambitious, somewhat villainous General Tilney is not wholly unjustified. However, with the 'unromantic' hero Henry Tilney, Catherine gradually progresses towards maturity and self-knowledge.
Thoughts: I first read this almost ten years ago and I must say I had a whole new appreciation for it this time around. I don't remember liking it exceptionally well before, but now I was quite enamoured — especially with Henry Tilney, who I believe I thought quite a bore previously. I still haven't read any of the Gothic novels that Austen refers to on a number of occasions, but I do plan on getting some of them read within the next year. Perhaps I should have left my re-read of this until after, to appreciate it even more, but I don't think it was absolutely necessary. And, after all, I could always read this again, should the fancy strike.

I give this book a B. It's not the best book I ever read, but it was enjoyable.